ACE Students Envision Amazon HQ2 for Chicago
ACE Mentor Program provides opportunities for high school students to design and collaborate with professionals
Every year we look forward to spending time teaching and collaborating with enthusiastic and intelligent young leaders eager to break into the workforce through the ACE Mentorship Program. With Lendlease Construction and Thornton Tomasetti Structural Engineers as our partners, we join together to mentor a group of high school students who are interested in pursuing careers in Architecture, Construction, and Engineering. ACE is especially important to us because this nation-wide program places a special focus on recruiting minority and female students, groups that are significantly under-represented in these industries. We do a series of workshops and field trips aimed at providing the students the opportunity to participate and immerse themselves in as many industry related activities as possible. All of this leads to a final project where they design an entry for the national Construction Industry Roundtable (CIRT) competition.
"I loved the idea that although we all came from diverse worlds, we all came together and put together the greatest presentation. Great minds are here for moments like that."
–Galilea Flores
This year's CIRT competition entry included revitalizing the former Finkl Steel site in Chicago to accommodate Amazon's second headquarters: the Squiggle Hub. Chicago's Montgomery Ward Headquarters was the predecessor to the digital order catalogue, making Chicago the perfect place for Amazon's second home base. The students' project aimed to tackle social and economic issues that emerge with sudden population growth: influx of jobs and significant increases in rental rates. The students also brainstormed ways to connect local communities with the Chicagoland area at large both digitally and physically. The Squiggle Hub is envisioned by the students as an autonomous structure that curves back and forth to create continuous pockets of accessible green space along the river. Live, Work, and Play program areas are thoughtfully placed throughout the site to help promote a healthy work-life balance. The complex includes two stacked forms that rise and taper based on function, access, and context. For example, the Work area is raised to maintain views to downtown Chicago while the lower Play area tapers down to the ground to connect to an extension of the 606 Bloomingdale Trail Park and various public amenities such as a new Amazon Echo Library, an open-air amphitheater, and pop-up shop pavilions.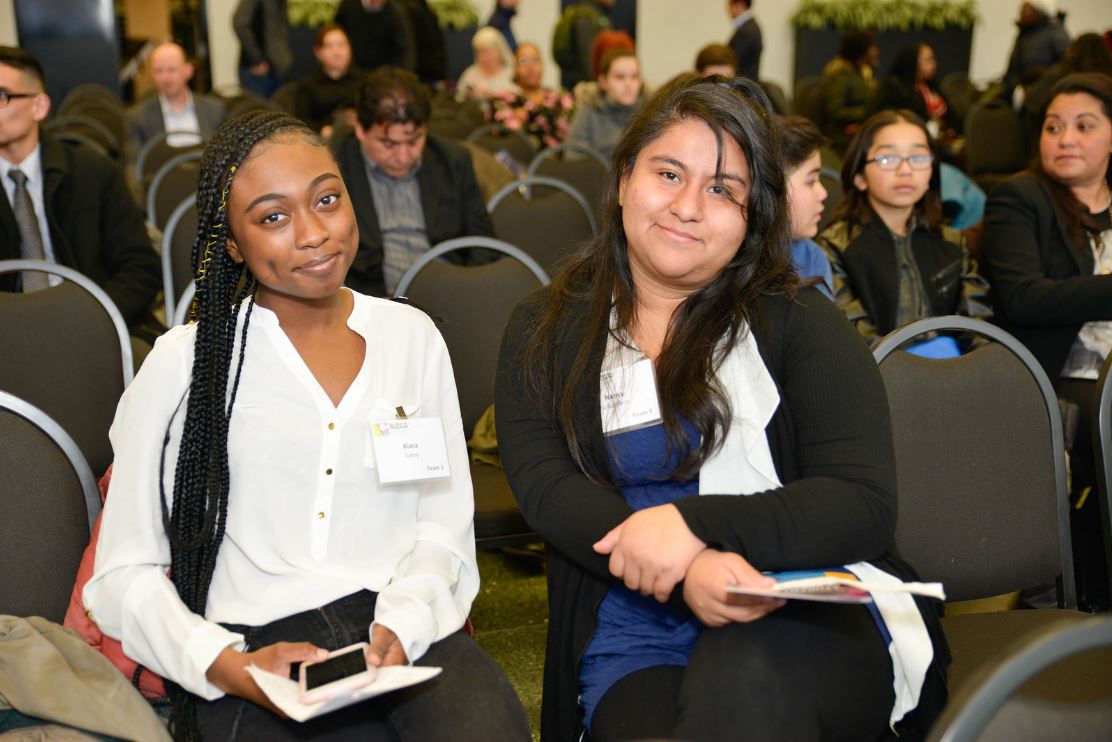 The students presented the Squiggle Hub to the entire ACE Chicago community of students, mentors, and their families in Hermann Hall at Illinois Institute of Technologies on April 18, 2018. VDT's team won five scholarships, three Design Build participants, four internships, and one student won an all expense paid trip to participate in Cornell University's Introduction to Architecture Summer Program. VDT's students reconvened on June 26, 2018 and presented their project to Mayor Rahm Emanuel, Deputy Mayor Robert Rivkin, and the rest of the city of Chicago's team currently working to bring the real second Amazon Headquarters to Chicago.
"I learned that it not only takes planning, knowledge, and dedication in these fields, but also an incredible amount of teamwork to optimize a design. The ability to learn how to work with others in the pursuit of a primary goal is an important aspect that I learned from ACE."
–John Gaura
Get to know VDT's 2017-2018 ACE team and learn their favorite memory from the year.
"ACE has allowed me to explore architecture in ways that were previously impossible for people my age. I am endlessly grateful for the ability to connect with inspiring peers and my ACE mentors, whom I never would have met otherwise."
–Liliane Tran